Alec Ogletree Charged With DUI
Updated: February 16, 2013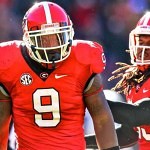 As we get closer and closer to the combine, we will start to hear more stories about some of the not so perfect pasts of our favorite draft prospects. Alec Ogletree is a guy that was suspended by Georgia in the past for off-the field issues and now there is a new dark cloud over this young man.
According to sources, Ogletree has been charged wit a DUI in the state of Arizona. There is no word on if there were any other passengers in the vehicle but either way DUI's are (1) incredibly stupid and (2) 100% preventable.
Alec has to smarten up and make better decisions off the field so that he can have a long career on it.
Has the actions of Josh Brent taught us nothing? Things to think about.