49ers May Target Mike Wallace in Offseason
Updated: February 9, 2013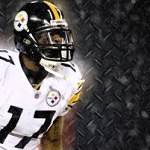 As the 49ers pick up the pieces after their Super Bowl run, this team has to figure out how to make their young quarterback Colin Kaepernick comfortable in the offense going forward.  Yes, Kaep demonstrated a lot of poise during a historic 10 game run, but ultimately the Niners lack of depth at the receiver spot came back to haunt them.
As far as the current group of receivers goes Randy Moss will be a year older and there is no indication that he will be back with the team, Mario Manningham is hurt (ACL), and rookie AJ Jenkins failed to make an impact.  That leaves a starting position open alongside Michael Crabtree for whoever steps up.
According to Pro Football Talk that starting position could very well be filled by the Steelers' Mike Wallace.  Word is that if the team can unload Alex Smith they will have the cap room available to offer to Wallace.  Wallace would bring them the true deep threat Randy Moss was supposed to be so it makes sense from all sides.
It is yet to be seen if the 49ers will address receiver in the draft as well with Jenkins already on the roster and developing.  We'll keep an eye on that.  One thing is for sure this team isn't ready to rest after their Super Bowl run.