Alex Smith Demands His Release After the Superbowl
Updated: January 28, 2013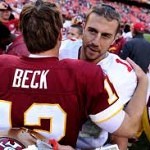 It must suck if you're Alex Smith.  He finally put together some good years back-to-back, his team rose to the top of the NFC and he was on the cusp of a deep playoff run.  All of that only to be lost to hotshot second year player, Colin Kaepernick, who wowed coaches with his arm talent and running abilities.
For now Alex is being a good solider (though he never takes his helmet off, take that as you will.)  However he has asked to be released after the Super Bowl.
To me, this is a story because what kind of guy puts this information out before the biggest game of his career?  What if Kaepernick gets hurt and Alex has to play?  Will he stay in the confines of the offense or attempt to shine with his impending free agency on his mind?  Just imagine if Terrell Owens did this.
Anyways, where will Alex Smith play next season?
Here are the usual suspects:
Philadelphia Eagles
Arizona Cardinals
Jacksonville Jaguars
Oakland Raiders
Kansas City Chiefs
With his limitations I doubt a team is willing to offer him an uncontested starting job.  Holding the clipboard for Kaep might not be a bad idea after all.