Please Quit Comparing Cam Newton and Vince Young
Updated: October 12, 2012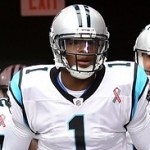 Yahoo! broke a story today in which they broke down Don Banks' SI.com article on why Cam Newton is the next Vince Young. I always felt this topic was a non-story but apparently it is gaining legs.
In the article, Yahoo writes, and I quote:
Newton deserves far more patience and, more important, doesn't deserve to be lumped in with Young. Comparing Newton to Young is like comparing a youthful Monet to a child who paints by numbers.

Anybody who saw Young from early in his career knew that he really couldn't play the NFL game. His passing skills were too crude and his ability to read a defense was non-existent. Worse, he couldn't handle the workload or the emotion of the game.
While Young wasn't a very successful NFL QB… you cannot deny that he had a way of making something happen with his feet. A quality Cam posses, as well as Tim Tebow, Michael Vick, Robert Griffin III, Aaron Rodgers…. and I could go on. But that is where the comparison ends.
The major issue with Cam Newton is that the Panthers aren't running an NFL offense and are relying on Cam to make every game winning play. Last season Cam was a rookie and that strategy took the division by storm. This season everyone knows #1 is going to carry the ball anytime the game is on the line. Defenses simply dare the Panthers to make someone other than Cam beat them… and the Panthers refuse to accept the challenge.
Vince Young couldn't be relied on to win games. He could make a nice run when there was space but that was about the end of his game changing abilities. Vince Young and Tim Tebow are much more similar than Vince Young and Cam Newton.
Young was winning games in 2007 (his second season) with absurd stats (one game in which he completed six of 14 passes for 42 yards and another when he threw three interceptions and zero TDs). The Titans won games back then by playing around Young and depending on their defense.
All in all, Vince Young was simply not that good. He never was a threat to lead the league in passing yards nor ever led his team in rushing touchdowns (his 7 tds his rookie year tied Travis Henry). He was simply a guy that could run. And that's that.