Im Out: Steven Jackson Voids Contract With Rams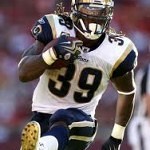 Steven Jackson has been one of the most consistent backs in the game. While he has never starred on a playoff contender, or played many prime time games I think we can all agree that he is one of the most well respected backs in the game. The fact that he wants out of St. Louis is no surprise. This is a team that drafted a franchise Quarterback three seasons ago and still has little to show for it in the wins column.
NFL.com Reports
CBS' Pete Prisco reports that the team allowed Jackson to void the final year of his contract even though he didn't reach certain incentives. Jackson was scheduled to make $7 million next year.
So where will he go? Here is my short list:
Kansas City
Oakland
New York Jets
Dallas
Tennessee