Collin Klein thrashes Geno Smith and WVU
Updated: October 21, 2012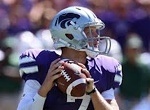 Ill admit it. I did not think that Collin Klein was going to continue his hot streak this weekend, and boy was I wrong.
Not only did Klein run through West Virginia like a hot buzzsaw he also single handedly put an halt to
Geno Smith's Heisman hopes for now.
Geno is still the #2 QB in the 2013 Draft, dont get that confused. He broke the NCAA record for completions without a pick and overall looked confident despite the loss and throwing his first pick.
I dont think Geno has done enough to catch Matt Barkley yet, but that may change soon, real soon.