Urban Meyer: Braxton Miller is More Talented than Tim Tebow
Updated: September 20, 2012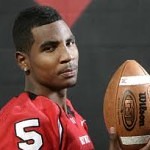 This makes sense that Urban Meyer would say this.
Braxton Miller is setting himself up to be in serious contention for the Heisman in just his second year of college football, due to flourishing in Urban Meyer's spread system. The same system that Tim Tebow won a Heisman, helped one National Championship team, and won another Championship with.
The thing is that Braxton is a much smoother athlete than Tebow ever was, and of course a better passer. Tebow is more of a "Bull in a China Shop" style runner, and a poorer passer.
Here is what Meyer had to say in an interview:
According to Fear the Hat — the blog of Lori Schmidt, a sports reporter with 97.1 The Fan — during Meyer's call-in show with the station he was asked to compare Tebow, the greatest player during Meyer's time at Florida, to Miller.

"Very similar guys," Meyer said. "They're both competitive human beings. They're both very talented people. Braxton has more talent. Tim is probably more of a grinder."

-Yahoo