Robert Griffin III Very Impressive in NFL Debut
Updated: September 10, 2012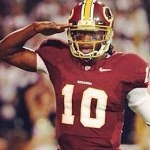 We waged opinion on it all summer long… Andrew Luck or Robert Griffin? Who will be the better Quarterback?
While conventional opinion seems to still favor Luck and his fit into a Pro system, the man known as RG3 came out of the gates smoking.
In his NFL debut Griffin went 19/26 passing for 320 yards, 2 touchdowns and no interceptions. The Redskins used primarily a screen based offense with a lot of read options. The new look Skins offense looked very similar to the same offense RG ran as a Baylor Bear.
It is only one game, but RG3 has been very impressive. Let's see what happens when he gets to meet tough division defenses like the New York Giants and it starts getting real.