Arizona Cardinals GM Pats Himself on the Back for a Job Well Done on Defense
Updated: September 6, 2012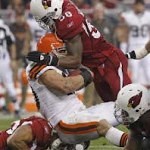 The Cardinals announced today that they have rewarded linebacker Daryl Washington with a new six year deal. Washington was just drafted in 2010 and has already outperformed his deal, at least in the eyes of the Cardinals.
Along with Patrick Peterson, Calais Campbell and others the Cardinals have some potential there. GM Rod Graves at least thinks so:
"Two things that successful teams do consistently is build through the draft and keep their core players," Cardinals General Manager Rod Graves said in a statement. "Daryl has certainly lived up to the potential we all saw in him coming out of TCU in 2010 and he has established himself as one of the top young defensive players in the NFL. I know he feels, like we do, that his best football is still ahead of him and we're thrilled that this deal gives him the opportunity to achieve that with the Cardinals."
Another thing successful teams do is draft franchise quarterbacks and don't overspend on veterans. Just saying….