[Video] Epic 20 Man Brawl Breaks Out in Jets Camp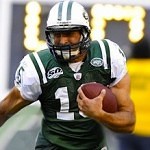 You don't think that tensions are high at Jets camp? Ever since Rex Ryan made the genius (sarcasm) move to trade for Tim Tebow one thing was very clear: Rex will try anything this season to win. He's already on the hotseat in some people's eyes.
With that said, competition at all positions has heated up. Antonio Cromartie has been moved to new role in a wide receiver package, and Tebow is taking Sanchez' spot in a new goal line package. To put it lightly: NO ONE'S JOB IS SAFE WITH REX.
A few running backs got into a fight which ended up in over 20 players jumping in to throw blows, break it up, cool heads, etc. You'll see Tim Tebow in the video but I guarantee he didn't throw a punch or ESPN would have stopped (it may have, I honestly don't watch much of it due to the current format but different blog for a different day.)
Watch the epic video below.