New Uniforms: Notre Dame Really Outdid Itself With These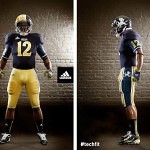 Adidas is doing their best to one up Nike with their new #techfit uniforms. A few days ago we saw the Wisconsin and Nebraska "all red everything" uniforms and today we get these uni's for the Golden Domers.
I actually like the non-traditional uniforms here for Notre Dame. I just think it would look so much better with the gold helmet.
Pics