Greg Reid May Be Playing For Valdosta State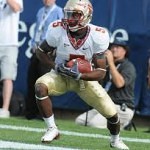 Greg Reid is one of the top cornerback prospects in the 2013 draft. Especially with the "Honeybadger" Tyrann Mathieu in limbo this season, Reid is one of the guys who can benefit by his absence.
Coach Jimbo Fisher dismissed the young corner from his Noles team but that is all good, Greg Reid has allegedly transferred to his hometown Valdosta State:
Multiple outlets including Warchant.com and the Orlando Sentinel report that Reid, as was previously speculated, has been accepted to Divsion II program Valdosta State per the school's sports information office. VSU could not confirm that Reid had enrolled in classes beginning today, however.