USC WR Robert Woods Still Battling Ankle Injuries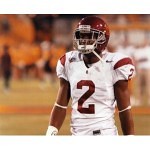 This does not bode well for the Trojans. Everything is set up for them to run the table this year and be in the National Championship conversation but if they are going to do that Robert Woods has to be part of that. The explosive receiver has been battling an ankle injury and word is coming from USC that he is still not quite healthy right now.
"Our reports have not said that he'll be 100 percent," Kiffin said. "Obviously, we would like for that to be case. But until I can physically get with him, which I'm not allowed to right now, and see him move around, I can't really tell myself where exactly he is."
Robert Woods at 89% is still better than most receivers, but you know Coach Kiffin and Matt Barkley want their best WR to be at max potential.