Tebow's Opening? Mark Sanchez Played Hurt in 2011, Says Teammate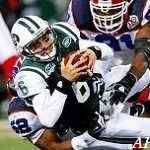 Could this be the opening that Tim Tebow needs to gain his spot as the Jets starting QB? According to Plaxico Burress (still without a 2012 team), Mark played with a shoulder injury in 2011.
Here are the details:
"He definitely has enough arm," Burress said in an interview with WFAN radio, via Jane McManus of ESPNNewYork.com. "He was battling some injuries last year, shoulder-wise that a lot of people didn't know about . . . different things like that. But I think he really turned a corner."
Who knows if Mark was really injured or not. He didn't make any of the injury reports last year. All that we know is that in 2012 he better be on his A game inquired or no. The Tebow wagon is waiting to take his spot, rightfully so or not.
From the report it sounds like Plaxico is trying to get back in the Jets good graces. Or anyone's for that matter. Two weeks ago he was talking about how much he wanted to play with Cam Newton. Next week Plaxico may get desperate and start talking about how awesome Carson Palmer looked in 2011.