Robert Nkemdiche to Withdraw From Clemson if School Doesn't Give Into His Demands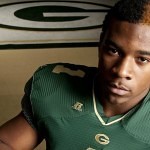 "Let me make you an offer you cannot refuse…."
Those are probably the words Robert Nkemdiche said when he called up the recruiting department at Clemson University. The nation's top prospect, stunned everyone by going to Clemson. I heard their "Chik-Fil-A" is a $$$elling point. Basically Nkemdiche wants the school to send a +1 with his scholarship and he will go to the next school on his list if Clemson doesn't oblige:
"I am waiting on Clemson to offer Ryan; when that happens, it's locked … it's a done deal … it's over," Nkemdiche, a defensive end, told the Atlanta Journal-Constitution.

So what if Clemson doesn't offer Carter? Well, Nkemdiche said he plans to look elsewhere like Ole Miss, where Nkemdiche's brother plays and where Carter already has an offer.

"If Clemson doesn't offer Ryan, it would make me look at Ole Miss a little more, it would," Nkemdiche said. "It's very important that I have my boys with me."
I guarantee you Clemson finds a scholarship for ya boy Carter.