Eddie Lacy Back: Ready to Go for 2012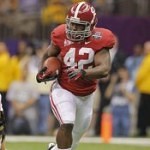 For all that Trent Richardson was to the Tide, Eddie Lacy's 600+ rushing yards 2011 went greatly under hyped. All that has changed now that Trent took his talents to the NFL and Lacy is the man for the Tide right now.
Lacy was injured last year but his coaches say that if they needed him on the practice (we talkin bout practice?!) field today, he could go.
On Wednesday, Alabama coach Nick Saban said as much for back Eddie Lacy, who missed all of spring practices because of surgery. In fact, Lacy would be "cleared to practice if practice began today," according to the head coach.

"Eddie Lacy has done extremely well over the summer," Saban told reporters. "We continue to work hard to try to get the conditioning level of these players back to where they'll be able to be prepared to have a full role on the team."
Eddie Lacy is one of the top running back prospects in the 2012 NFL Draft. With a good season, he could be one of the first runners taken next spring.