Browns Select Baylor WR Josh Gordon in Supplemental Draft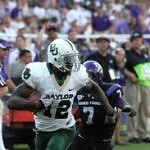 The supplemental draft is where teams look like geniuses or look like they are making moves just to make them. I think the selection of Josh Gordon by the Browns has the potential to look like a genius move.
Using a second round pick, the Browns got a WR who probably would have went in the same range in the 2012 NFL Draft and also got him without having to trade anything in the process. They will forfeit their 2013 second round pick for Gordon.
The selection gives the Browns a WR nucleus of Gordon, Greg Little, and rookie Travis Benjamin to go with their rookie QB Brandon Weeden and rookie RB Trent Richardson. In four years this draft could be looked upon as the one that turned it around for the Browns.