Georgia RB Isiah Crowell Kicked Off Team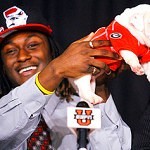 Many of times young men make mistakes that cost them big in the long run. That may be the case of Georgia RB Isiah Crowell. He caught a felony weapons charge and Georgia showed him the door soon after:

In a statement, head coach Mark Richt announced that the sophomore back has been dismissed from the UGA football program. Also in his statement? No specific mention of Crowell.

"We have a dedicated and committed group of men who are working hard to prepare for the coming season," said Richt in a statement. "Our total focus will be directed toward the team and this effort."
Hopefully Isiah learns his lesson and will bounce back.