Andrew Luck's Contract Held Up Over Marketing Language?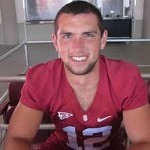 Jim Irsay is strongly refuting rumors that Andrew Luck's contract has not been done due to a dispute over language in the marketing agreement of the contract. Rumors are that the Colts want to limit Andrew's appearances and don't want him all over the place like Peyton Manning.
Irsay of course says this is just a rumor and that the deal will get done. Here is what he said:
The Colts owner most recently has used the social-media tool to dispute a report from Len Pasquarelli of the Sports Xchange that his team and quarterback Andrew Luck have encountered a "stumbling block" regarding the marketing language in Luck's rookie contract.

"One source with knowledge of the talks even suggested that Luck would 'have to clear' marketing proposals with the club," Pasquarelli writes.

Says Irsay in response: "As much as I respect my friend Lenny Pasquarelli[,] the 'One Source' is completely wrong[.] We're close on #12 [and] final details [are] unrelated 2 marketing."

As to Pasquarelli's explanation that the Colts believed Luck's predecessor, Peyton Manning, was "overexposed," Irsay also takes issue. "It's ludicrous 2 say we thought #18 was overexposed, he did a great job of focusing on football [and] "Branding" [was] incredibly positive Image 4 Franchise," Irsay said.

And so Irsay concludes with the following observation. "Someone is being fed a big breaky of BS this morning!"

Profootballtalk
Either way the deal will get done.