Vince Young to Workout for Buffalo Bills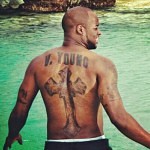 You certainly can't say that Vince Young has had a good off season.  We are going into May and his phone still has not rang until now.  The man who's biggest contribution to football last year was coining the phrase "Dream Team" will be working out for the Bills of Buffalo.
BREAKING: Free agent QB VinceYoung will work out for the #Bills tomorrow
It is looking like Vince will never get back to starting in the league again.  If Buffalo offers the job Vince should take it, grab a NIKE sideline hat and be the backup to Ryan Fitzpatrick.