Shanahan Names Rookie QB His Starter in Washington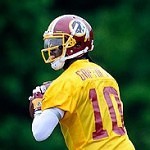 ….and his name is Robert Griffin III.
Did you really think that after the Redskins traded everything except Dan Snyder himself for the #2 overall draft pick that this would end any other way?
Yes, Shanahan traded up for a rookie backup QB in Kirk Cousins. But for now he is just the backup. Griffin III is the man in Washington.
"He's the starter. Period,"

"Any time you pick a player with the second pick of the draft and you give up another two No. 1's and No. 2 and you move up four spots, you've got a gameplan in mind," Shanahan said. "We're going to adjust our system to what he feels comfortable with, and we'll watch him grow, and we'll do what we feel like he does the best."