Seattle Seahawks Trade For Kellen Winslow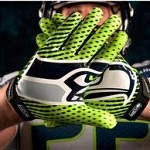 Kellen Winslow was asked not to come to OTAs by the Buccaneers because they were planning on trading him. That story broke yesterday. A few hours later a subsequent story broke. A random team- The Seattle Seahawks, have completed a trade for the former Hurricanes tight end.
Here are the details:
The Seahawks' search for a tight end to complement Zach Miller has led them to Kellen Winslow Jr. The club acquired the productive pass-catcher on Monday in a trade with the Buccaneers.
With Zach Miller already on the team, and a three way QB battle looming, I just don't see how Kellen is going to get many balls. Maybe he can beat out Miller. Maybe he develops a good rapport with whatever QB is left standing. We will see.