Scott Pioli Says Chiefs Had 3 Good QBs Going Into 2012 Draft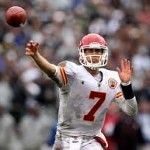 If you ask any fan around the league, they will tell you that the Chiefs were among the handful of teams that could have justified selecting a QB in the 2012 NFL Draft. However, they did not. In an interview with SportsRadioInterviews.com Chiefs GM Scott Pioli says there was a reason: the Chiefs already have a good QB on the roster.
I think we have three good quarterbacks. I think the guy who's set to be our starting quarterback is a good quarterback, he's a good starting NFL quarterback. . . . I think as he gets more opportunities, Matt is gonna continue to show people that he's a good NFL quarterback. It's interesting. I've been out and about town with my family, and I talk to fans, you talk to fans, you hear different things, and there's a lot of times where I hear from people — there's people out there that don't understand the criticism of Matt, or this growing groundswell in pockets of Matt allegedly not being a good enough quarterback.
All I have in response to this: