Eagles Release QB Jacory Harris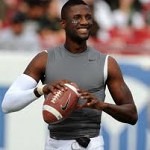 I think we all knew that Jacory Harris was a long shot to make the Eagles final roster. With Michael Vick, Nick Foles, and Mike Kakfa all in front of him, Jacory stood little to no chance. Andy Reid has a way with QBs, so if he dumps you chances are your NFL prospects are done for the immediate future.
Adam Schefter broke the news with a tweet: "Eagles release QB Jacory Harris, a rookie free agent from Miami."
Hopefully Jacory catches on in indoor football or the CFL and finds his way back to the league.
I've said this before but it's extremely important for young QBs to continue to get better because chances are they will get another shot somewhere down the road. Never forget Kurt Warner was sacking groceries playing arena football and came back. He won a MVP and a Superbowl so it can always happen to any QB devoted to his craft. Just check your ego, play anywhere they will let you, and get better.