#Dreamteam: Vince Young Signs With Buffalo Bills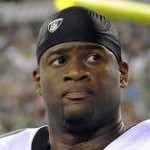 I remember just a few years ago when people questioned who would be the #1 overall pick in the 2006 draft. Mario Williams, Reggie Bush, or Vince Young? Who would have thought that Reggie Bush would be the first to get a championship, Mario Williams would prove to be the best player, and that all three would be on their second (and third) teams by now?
Who would have thought that two out of the three would end up Buffalo Bills?
Well that's exactly what happened today as Vince Young has inked a deal to backup Ryan Fitzpatrick. This may be a good spot for Vince. Backup Fitzpatrick, get a few reps here and there, and stay out of the spotlight. We know he certainly won't be dropping any more "Dream Team" bombs in Buffalo.