Cam Newton Apologizes for Being a Bad Teammate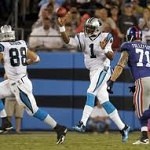 It is not often that we hear of a player admit to his faults, so for "The ICON and Entertainer" Cam Newton himself to do so is very refreshing. Cam was pretty tough on himself for how he acted during the Panthers losses.
"I was very immature," Newton said when asked about his sometimes moody reaction as losses piled up. "I'll be the first one to tell you, the pouting and the moping, I kind of overdid it. I know that. I was a bad teammate. I shut off to some people who gave unbelievable effort. … That's where I have to mature."
"Half the time it wasn't me shutting people down because I was thinking they weren't giving the same effort as me, it was me knowing there were things I could do that could have changed the outcome of the game. … I put a lot on me to be able to respond. When things are going wrong, I wanted to have the ball in my hand, just like any warrior, any competitor who has played this game. When you don't get the results you want, I didn't go about it the right way."
It is not uncommon to see Cam sulk on the sideline with the towel wrapped around his head after throwing a few picks. He has to change that reaction and be more like an Eli Manning or Tom Brady, get that ice water in his veins. We'll see if Cam can turn the corner in year two.