Broncos Trade CB Cassius Vaughn for Chris Gronkowski?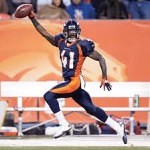 The Broncos have announced a trade that will send young cornerback Cassius Vaughn to the Indianapolis Colts for TE/FB Chris Gronkowski. Gronkowski played for the Cowboys in 2010 and the Colts in 2011. He is the older brother of Patriots TE Rob Grownkowski.
Even though Peyton did not play for the Colts in 2011, he must have been around enough to like what Chris can do. The Broncos have some depth at the CB position with Bailey, Florence, Porter, Harris, and Bolden so Vaughn was expendable.