Nah Im Good: Robert Griffin III Rejects Colt's Private Workout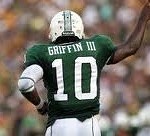 People in the media close to the Indianapolis Colts have leaked stories lately saying that the Colts are indeed not 100% sold on how they are going to use the #1 overall pick yet. Possibly they could take Stanford QB Andrew Luck (who worked out for the team earlier today) or they could opt to do something against the grain and grab Baylor QB Robert Griffin III, or just trade the pick all together.
If they are going to take Griffin (which they will not, Jim Irsay is bluffing) they are going to have to do it without private workout time:
A Luck private workout 2day..we want 2b as thorough n disciplined n process of #1 pick..we wanted 2do private with RG3,but his agent said no

Source: @JimIrsay on Twitter
Griffin isn't a fool. Don't waste time for a team that was never going to pick you in the first place. He will be a Redskin, and that's that.