John Elway Says Broncos Will Draft Talent Over Need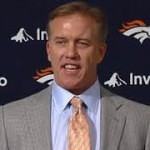 The draft is just a few days away. I cannot believe it! I'm getting ready to write my final 2012 Denver Broncos mock right now, and with that comes getting in the mind state of one Mr. John Elway. Elway has come forward with some information very telling in the direction of Denver's new draft strategy:
"The bottom line is, you want to come out with impact players," Elway said at this morning's news conference. "As I said last year, drafting to need is, you have a lot more misses, in my mind, when you draft to need. So we're going to try to find the best players, in position of need, but also try to to find those impact players that are going to be able to come in and help us right away."

Read more: Elway says Broncos will choose impact vs. position in NFL draft – The Denver Post http://www.denverpost.com/sports/ci_20460774/elway-says-broncos-will-choose-impact-vs-position?nstrack=sid:2580638|met:300|cat:0|order:1#ixzz1suFz8lHd
Read The Denver Post's Terms of Use of its content: http://www.denverpost.com/termsofuse
With that said, I am expecting Denver to go with a running back in Doug Martin or Lamar Miller (rumor is Denver really likes Miller) or a defensive tackle if one of the elite prospects falls to 25. By elite I mean Fletcher Cox or Quinton Coples, I don't see a huge gap between Jerel Worthy and Devon Still and don't think they'd make as big an impact as Cox/Coples or a back would.
Look for my full Broncos mock draft, and final 2012 NFL Mock Draft in the next few days.