Greg Cosell: Robert Griffin III Should Be the #1 Pick and Im Sticking To It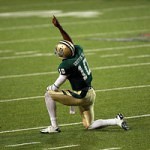 Every time there are two good players at one position in a draft, you always have at least one draft pundit that will go against the grain. Greg Cosell is highly respected, and to give him credit he is not the only person saying that Robert Griffin III will be the better pro.
Here is what Cosell had to say in his latest piece:
My highest rated quarterback is Robert Griffin III. Projecting college quarterbacks to the NFL demands an understanding of the attributes needed to play on Sunday. I presented those earlier this week. My conclusion: Griffin is a superior arm talent and better natural passer than Luck. This debate will rage for a long time, but that's my story, and I'm sticking to it.

Source: NFL.com
For the record, I'm going to say that Luck will be the better pro because he is going to a better organization with more draft picks in the immediate future. I compare Andrew Luck to Eli Manning with more athleticism, and Robert Griffin to a young Aaron Rodgers.