Former Draft Bust Aaron Maybin Signs New Deal With New York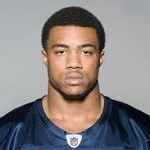 That's right.
I am removing the bust label from Aaron Maybin. Yes, Maybin tied me for sacks the first two years of his career, but it seems like all it took was a change of scenery to turn that light bulb on. I remember watching the Jets game versus Buffalo this year thinking "Aaron Maybin can't be blocked. Wait, did I just think that?!"
Maybin has rejuvenated his career with the New york Rex's (6 sacks in 2011) and has been rewarded with a new deal. Hopefully he keeps playing up to his potential with the new deal.
Just inked the new contract….blessed 2 have this opportunity. Time 2 go to work #mayhem

— Aaron Maybin (@AaronMaybin51) April 16, 2012