Eagles Draft Bryce Brown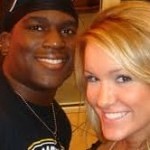 Remember Bryce Brown? The AWOL running back from Tennessee who transferred to Kanasas state and then entered the NFL Draft this spring.
At one time Brown was the biggest prospect coming into college football. You have to wonder what he could have accomplished if Lane Kiffin didn't desert that Tennessee team.
If there is going to be a 7th round sleeper in this draft it looks like it will be Bryce Brown. The Eagles just drafted him with a minimal pick, and the talent is definitely there for Brown to secure a roster spot.