2012 NFL Draft: Colts Inform Andrew Luck He Will Be #1 Pick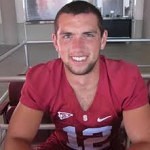 Apparently the Colts have completed their vetting process and have decided on who they will select with the first pick in the 2012 NFL Draft. It will be none other than Stanford Cardinal QB Andrew Luck!
Per Adam Schefter:
It's unclear precisely when the Colts informed Luck of this, but a league source said the Colts have known for weeks that Luck would be their pick. His style most closely resembles that of former Colts quarterback Peyton Manning and he is the player Indianapolis wants to rebuild around, the source said.
Don't be sad if you are Robert Griffin III. Griffin will likely be the #2 pick, unless the Redskins traded all those picks for something crazy like a WR. Justin Blackmon to DC? That's maybe not that crazy considering its a Shanadraft pick. Either way we are a week away and will have all the answers at the 2012 draft.