2012 Draft: Patriots Still Looking for a Safety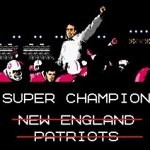 It seems like every year we are talking about the New England Patriots and their lack of talent in the defensive backfield.  The funny thing is that if one of their 5th string DB's didn't break up a pass to Lee Evans late in the AFC Championship the Patriots probably would have never made it to the Superbowl where they were torched by Eli Manning and crew. Again.
Pat Chung was a great selection for them a couple of years back, but its evident that New England needs to develop a rotation of solid players.  According to a report from ESPN they may use one, or both of their second round picks at the CB position:
 Patriots may be looking for a safety with one of their second round picks. The Patriots have had some relative hits (Patrick Chung, James Sanders) and misses (Brandon Meriweather, Guss Scott, Dexter Reid) drafting at the position.