2012 Draft: Multiple Teams Looking to Trade to #4 For Ryan Tannehill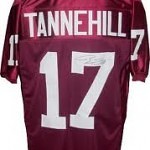 I predicted this about 48 hours ago but here we go. The hype machine is in full force and it is looking like Ryan Tannehill will be the #3 or #4 pick in this draft.
Should he be? Of course not. With the combination of the new value top 5 picks have (thanks to Washington) and the fact that he's the last highly rated QB that is on the market the value of that #3 and #4 pick has sky rocketed. Someone between Miami, Philly, and Cleveland, is going to make the bold move for the former Texas A&M QB:
Mary Kay Cabot of the Cleveland Plain Dealer reports that the Rams at No. 6 and the Eagles at No. 15 are believed to be interested in moving up
…Philadelphia and Cleveland have "spoken several times," but that could have just as much to do with Browns G.M. Tom Heckert and Eagles coach Andy Reid's longstanding relationship as it may with Philly's intentions to make a costly draft-day maneuver.
source: ProFootballTalk