2012 Draft: Dolphins Looking at Claiborne, Coples, Tannehill, Floyd, and Ingram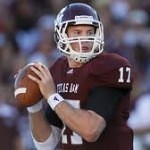 The Dolphins need a bit of help.  That goes without saying.  They missed out on Peyton Manning, Matt Flynn, and Robert Griffin III.  To boot, they traded Pro Bowl WR Brandon Marshall and still need along both lines.  There is a lot of different ways they can go with their pick and they would all make sense.
However you know the golden rule: If you don't have a franchise Quarterback, you must draft one.
Is Ryan Tannehill that guy?  
The Dolphins are certainly going to do their homework on him and a host of defenders as well.
The Dolphins, sources say, have made plans to fly in three marquee prospects that warrant consideration with their first-round pick: LSU cornerback Morris Claiborne, South Carolina outside linebackerMelvin Ingram and Notre Dame receiver Michael Floyd. Among a handful of other players in the mix at No. 8, Miami already has met extensively with Texas A&M quarterback Ryan Tannehill and is bringing in North Carolina defensive end Quinton Coples.

Read more here: http://miamiherald.typepad.com/sports-buzz/2012/04/dolphins-summon-three-top-draft-prospects-and-two-veteran-lbs-um-heat-marlins.html#storylink=cpy