Tim Tebow Traded to the New York Jets, is this it?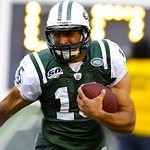 Finally it happened.
Since the day Tim Tebow was drafted, I will admit I looked forward to this day. The deal has finally gone down and Tebow is no longer a Denver Bronco. The Broncos unloaded Tim to the Jets for a 4th round pick.
The only issue with the situation is this. Tim Tebow simply is not good enough to be worth the hassle of keeping him on your roster. While he is a good athlete, he is no quarterback. Rational fans understand this.
I really feel bad for Mark Sanchez because the first time he throws 2 picks in one game the chants will start and the circus will load up. Sanchez ultimately will be benched for Tebow, we all know this. His fanbase are some of the loudest and most demanding in sports. They will see too it that Tim plays.
Will Tim get better? Probably not. He's been struggling as a passer for over half a decade now. You have to remember he played 4 years at Florida and is still so far behind other QBs in his class. So when Tebow finally does play, it won't be pretty metaphoricaly and realistically.
This is probably Tim's last stop in the NFL. That's really sad to think about for a third year pro, but where could he go next? New York is not going to give him three more years to run around and "figure it out" and eventually Tim WILL brushback on the whole "wildcat" angle.
He will want to play QB somewhere, but after his stint with the Jets is there a place for him in this league? Thats an interesting question to ponder going forward. It's going to be REAL interesting to see how the NY fans react to those 6/20 60 yard games.