Tim Tebow is 15 Times More Marketable Than Mark Sanchez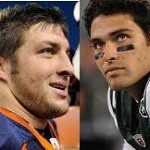 This will not be the only "why Tim Tebow is better than Mark Sanchez" story this year. It is only the first of many. I expect the Mark Sanchez slander to increase to sky high levels this season.
The Jets might have two star quarterbacks on their roster, but Tim Tebow and Mark Sanchez are far from alike when it comes to endorsement potential.

According to Nielsen and E-Poll's N-Score ranking, which measures factors including name and image awareness, appeal, attributes such as sincerity, approachability, experience and influence, Tebow has a score of 180 while Sanchez has a score of only 12.
#TEBOWING