There is "No Chance" Broncos Sign Peyton Manning, Yet He Visits Denver First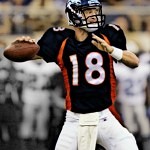 Woody Paige is a well respected writer. Do not get me wrong. But it seems that ever since Tim Tebow came to the Broncos, Woody has turned in his reporting for thinly veiled blind love for the former Florida Gators Quarterback. Ever since Kyle Orton beat Tebow in camp soundly, Woody has been pushing out article after article on how Tim Tebow will be the second coming of Frank Tarkenton mixed with Steve Young and John Elway.
So with that said, you know good old Woody was threatened when one of the best quarterbacks of all time, Peyton Manning became available on Wednesday. In Woody's latest masterpiece he laid out a trove of reasons why there is no chance that Peyton Manning would ever, EVER, consider playing for the Denver Broncos.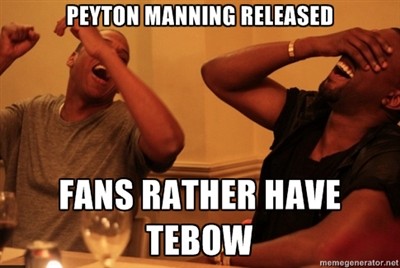 The Title of Woody's masterpiece is " Woody Paige: Broncos won't make Peyton Manning's final list."
Manning, who will be 36 on March 24, wants to play for an immediate Super Bowl contender; in a domed stadium (where he has won more than 70 percent of his games) or a warm-weather city; on a team with a quality defense and superior receivers, linemen and running backs; in a system that allows him freedom and influence; for an organization that doesn't have drama; and in a locale where Manning is the man.

Honestly, the Broncos aren't qualified on enough fronts, even though they are in the running, or passing.

Read more: Woody Paige: Broncos won't make Peyton Manning's final list – The Denver Post http://www.denverpost.com/paige/ci_20135514/broncos-wont-make-peyton-mannings-final-list#ixzz1oepLR3X1
Read The Denver Post's Terms of Use of its content: http://www.denverpost.com/termsofuse
The whole article is basically Woody backpedaling and refusing to make a definite statement on Peyton and the Broncos.
"The Broncos wont make the final list."
"The Broncos won't be No. 1"
So why Peyton is visiting Denver FIRST?
A tipster, whom we regarded as either very trustworthy or an evil genius, told PFT last night that Peyton Manning will meet with BV.P. of football operations John Elway and other Broncos officials in Stillwater and then head to Denver to meet with Broncos owner Pat Bowlen.
We'll see what happens.