Texans Cut Draft Bust Matt Leinart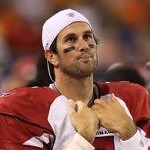 Matt Leinart. At one time he quarterbacked a team that was unbeatable in college football. Now he will best be known as a Trivia Pursuit: Sports Edition Answer. The Houston Texans have decided that TJ Yated will be their backup QB going forward and are cutting Leinart loose.
Adam Schefter reports:
This is not to make room for Peyton Manning: Texans cut quarterback Matt Leinart.
Drafted 10 overall from USC in 2006 after shunning the 2005 draft where he was expected to be the #1 overall pick, Leinart's career has been a story of a player who just could not stay on the field. Whether it was getting beat out by a veteran, getting injured, or losing his spot to a rookie things just haven't gone Matt's way. Hopefully he has something lined up off the field because his career could easily be over now.