Tebow in Manhattan: First Jets Press Conference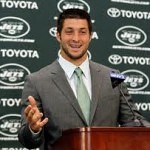 Let me start this by asking when was the last time in NFL history that a free agent backup QB held a press conference?  That's the thing with Tim.  The Tebowmania lives in it's own world.
Many former Jets players and former Broncos players were on television this morning and they basically said the same thing: this is not going to work.  Tebow is still too far behind in his development.  The Jets did this move to generate press and that is the ONLY reason in some people's eyes.
The fall from grace is going to come.  Maybe Tebow's next stop is the CFL. Maybe he should look for some Calgary apartments for rent sooner rather than later.  With that said, Tebow is happy right now hopefully he will work on being a QB more than he is working on being a celebrity.
The end is near for Mark Sanchez, but is Tim really better? Of course some people are still harping on the "he just wins!" manta which I find utterly hilarious.  Winning several fluke games, and backing into the playoffs 1-4 with the worst statline of any starting QB in the last 10 years is not winning.  But we all know how this is going to end.
Mark Sanchez' NFL record 4 road playoff wins will be quickly forgotten if not already.  The boos will come.  Teeebow chants will start.  Tebow will play, and he will make a few plays with his legs but this is New York. 
Do you think they are going to overlook the fact he cant complete 2 out of 3 passes?