San Francisco 49ers Sign Randy Moss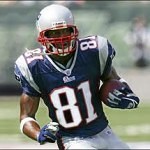 Word coming from San Francisco was that the 49ers were going to do whatever it took to add two more quality receivers to their squad this Spring. Well, within 24 hours of working out Randy Moss the team has signed him to a deal for the 2012 season.
Adam Schefter reports:
Filed to ESPN: 49ers reached agreement on a one-year deal with wide receiver Randy Moss.
So we have Moss, Owens, and Rice all spending stints of their careers with the 49ers now. How ironic. I can't wait to see how the 49ers open their offense up.
#straightcashhomie