Peyton Manning Leaves Colts: Will the Denver Broncos Sign Him?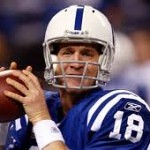 As you all know, this was a long time coming and today it is official. Peyton Manning is no longer a Indianapolis Colt. 14 years and a Superbowl later, it is over for 'The Sheriff' in Indianapolis. It isn't a time to be sad Colt fan. Andrew Luck is walking through that door in just about 6 weeks.
If you didn't see it here is the teary press conference:

Upon news of Manning being a free agent pretty much the entire NFL has chimed on it. Darnell Dockett has already pledged his barber and parking spot to the cause down in Phoneix. Raheem Brock has pledged a crop of young WRs:
Yes Larry fitzgerald is a great player! But in seattle he wld have about 4 or 5 wr's and 2 tight ends that he can work with!
But what about the Broncos? Adam Schefter reported this on twitter:
Broncos will inquire about former QB Peyton Manning's availability and see if he has interest in coming to Denver.
That sound you just heard was Broncos fans erupting in joy all across the country simultaneously. After a season in which the last guy threw just over 46% of his intended passes to their mark, having Peyton Manning out as a free agent is like a gift from above.
And with that said, I am on the bandwagon.
If I am the Broncos I roll the red carpet out and get Peyton Manning's signature on a contract before Monday morning. Is Peyton 36? Yes. Is there risk in his current condition? Yes. You have to obviously get a physical on him and make sure you are comfortable putting your money into him, but if all things are go this is a no-brainer.
Why?
I'll end it with this.
The Broncos started the statistically worst PASSING quarterback in the last 10 years and were two games away from the Superbowl. Two games. You don't think Peyton could have made a difference in last year's playoff run? You don't think it's worth the risk to see what happens if you add Peyton Manning to the current Broncos roster?
All I have to say is this. Without Peyton Manning the Colts were the worst team in the NFL. The WORST. With Peyton Manning this happened: