NFL Draft 2012: Orson Charles' Arrest Likely Won't Hurt His Stock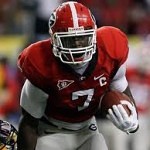 If you haven't heard the news, Georgia tight end Orson Charles was arrested a few hours ago for a DUI. Going into the draft process the pass catching tight end has been pegged as a late first to mid second round pick. Charles gambled all of that though, when he decided to get behind the wheel of a car having a few cold ones.
According to the Athens-Clarke County Jail reporting log, Orson Reuben Charles, 21, was booked at 4:31 am. He was released on bond less than an hour later.
Charles was a leader at Georgia and won many coaches awards, and was never in trouble before today. I seriously doubt if one dumb decision will tumble his stock completely but he has to tighten up. Teams will not hold one little event like this against a guy. After all Jamal Lewis came back after being found guilty of selling drugs, and Sam Hurd still has hopes of returning to football after getting his Frank Lucas on. Orson Charles driving buzzed was dumb, but he likely won't do anything like this again.