Mel Kiper's 2012 NFL Mock Draft (Updated!)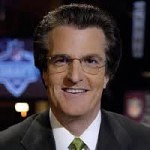 As we get closer and closer to the draft, everyone is getting their final mocks in order and some picks are starting to shake out. Expert Mel Kiper is back again with his March edition of his 2012 NFL Mock Draft. As usual, I cannot post the whole thing here but if you Google it you will find it.
Mel's picks are below with my comments underneath:
1. IND – Andrew Luck QB
Peyton Manning is officially a street free agent (how weird did it feel to type that?) so this pick is clearly Andrew Luck or Robert Griffin III.
2. STL – Justin Blackmon WR
Blackmon will not go second in this draft. Is he the next Calvin Johnson? Most scouts seem to feel he is more the next Mike Crabtree.
3. MIN – Matt Kalil OT
Great selection, no beefs.
4. CLE – Robert Griffin QB (assumes trade up)
So Cleveland is going to get it done. I think that this team needs more than a QB, but if you dont have a QB you like it all starts there…
5. TB – Trent Richardson RB
Could be a possible selection.
6. WAS – Justin Blackmon WR
Blackmon twice? Seems like something is weird with this list..
7. JAX – Quinton Coples DE
Jacksonville is hell bent on building a great defensive line. Coples here would not surprise me. Though he will fall in my latest mock.
8. MIA – Riley Reiff OT
No problem here.
9. CAR – Dontari Poe DT
Would love to see them commit to Cam and get him a weapon. Unless you can convince V Jax to come to Charlotte go get Michael Floyd.
10. BUF – Melvin Ingram DE
I think this pick will be Whitney Mercilus from Illinois, but it will be a pass rusher.