Mel Kiper Says Alshon Jeffrey is a Second Rounder Right Now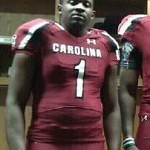 Mel Kiper once said that Jamarcus Russell would be the next John Elway. He said this live during the television broadcast of the NFL Draft with the world watching.
Now with that said, Mel is still considered a NFL Draft expert so his opinion does hold a lot of weight in some circles. On twitter a fan asked Mel about South Carolina WR Alshon Jeffrey and this is what Mel responded:
Jeffery weighed in at 216 pounds which surprised me. Thought he would be at 225-230. His Pro Day will be huge. 2nd rder right now
I've heard that Alshon was moving into the top 10, I've heard that he's fallen out of round one. So many confusing reports with this guy. The fact that he came into the combine at 215 made things even more complicated. Is he going to stay in such great shape? What weight did he play at? How fast is this guy exactly?
So many questions with Jeffrey right now. Scouts are going to have to really do their homework on him because either you are getting a perennial Pro Bowler, or you are getting the next Mike Williams (USC).