Denver Broncos to Trade Tim Tebow if They Can Acquire Peyton Manning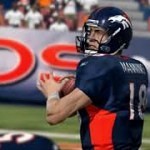 The TEBOWMANIA saga may soon be over. I've said it many times, and I stand by my statements Tim Tebow simply is not a NFL QB. Yes he helped the Broncos win a lot of games in exciting fashion, he also had one of the worst individual seasons at the position in over 10 years. I'm sorry but running your QB off tackle 20 times a game is not a long-term strategy. Nor is completing 46% of your passes.
I am one of the few people who remember the facts that the Broncos (my favorite team don't get it twisted) actually backed in the playoffs with a loss. The final five games of the season the Broncos went 1-4, and Tebow finished the season with 12 fumbles making him a very quiet turnover machine.
That's not to say that Tebow is a bad person or he can't play in the NFL. There is no shame in being a very good backup QB. A lot of guys have made a lot of money doing just that.
With that said, there is no confusion that John Elway is ready to upgrade the position with Peyton Manning and trade Tim Tebow:
According to PFT's Mike Florio, Tebow has every right to be rattled. Florio wrote that according to a source with knowledge of the situation, the Broncos would most likely not keep Tebow and have him learn the finer points of the position from Manning — more likely, Tebow would be traded. Or, at least the attempt would be made
Somewhere Skip Bayless and the rest of Tebow Nation are "Tebowing" in hopes that a trade doesn't happen. Either way, the Broncos braintrust have made their point loud and clear- they WILL acquire a better Quarterback than Tim Tebow in the near future.