Chiefs Sign Brady Quinn & Eric Wintson, Adds to a Nice Free Agency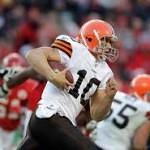 The Chiefs announced today that they have signed former Broncos QB Brady Quinn. As a Broncos fan I think its odd that both QBs that played behind Tim Tebow ended up on the KC Chiefs. Maybe it's an ego thing to get that yearly head-to-head with #15? Who knows.
Anyways the Chiefs have a nice little free agency going. So far they have signed:
RT Eric Winston
TE Kevin Boss
QB Brady Quinn
HB Peyton Hillis
DB Stanford Routt
As a Bronco fan all I have to say is… PEYTON! PLEASE!