Buffalo Bills Sign Former #1 Overall Pick Mario Williams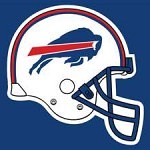 Big blow to the Houston Texans. Former #1 overall pick, Mario Williams has decided to take his talent to Buffalo. The Bills locked up Super Mario's services after a 3 day free agency tour. He will be paired with Kyle Williams and Marcel Dareus to form a fantastic defensive line on paper.
Here are the details:
Mario Williams' deal in Buffalo: six years, up to $100 million, including $50 million guaranteed.
per Adam Schefter
Do you think this makes Buffalo a legit contender?