Bruce Allen: Andrew Luck or Robert Griffin III Were Going to Be Redskins, Period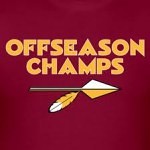 These are the kind of power moves that make or break franchises. I think back to the Giants getting Eli Manning, and the Broncos getting John Elway (although both players were traded after getting drafted).
The Redskins were simply determined to leave the draft with one of two players. Robert Griffin III or Andrew Luck. Period. And thanks to the major trade with the Rams the Skins will indeed field a team in 2012 with one of the two as their quarterback.
"We fell in love with two players in the draft and one of those players will be a great Redskin," Allen said.

Allen said getting the trade done prior to free agency was important because it allows the Redskins to start putting together their team around the rookie quarterback they'll add next month.

"When you know what you're going to get with the first pick in the draft, it gives you great comfort," he said. "We thought [making the trade now] was important to allow us the proper planning of what we wanted to do in free agency."
Source: PFT
I still question what kind of team they will field with no first rounders until 2015, but we will have to see what happens with that.